Judge Code Online – Run and Judge your code!
Wishing to assist you programming online, especially those who beginner programming on a number of programming languages ​​such as C, c++, java,… We have to build a website judge code online allows you can nộp code, run code online and giving false results right now. The learner will know its true or false, wrong in the test at, from which can learn from experience and improve their code quickly, fit.
Website built on the basis WordPress, theme Ribbon của MyThemeShop and use translation system, dot code Judge0 API.
Members of website building: Nguyen Minh Duc, Tran Cong Tung, La Thanh Hanh and Nguyen Van Quan. Except himself, then 3 you Germany, Tung, Hanh were both students ICTU – UIT&TT Taiyuan doing this website.
We are looking forward to your comments on the website to increasingly serve your learning better. Any suggestions, contributions should be sent to the email exercises: nguyenvanquan7826@gmail.com.
Donate
Every year we have to renew (buy) Domain, hosting and code dot api for the website at a large cost. We hope you support for the website to be maintained for a long time. You can support through:
– Paypal: nguyenvanquan7826@gmail.com
– VietinBank: NGUYEN VAN QUAN, Account number: 100006050270, Branch: Thai Nguyen
– Scan the QR code: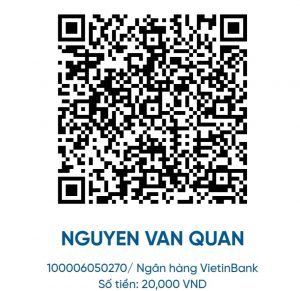 ---
We sincerely thank you for their support following websites: